A quick pickle
I grew up loving all kinds of pickles. The basic ones that came on our McDonalds hamburgers to the ones that were specially steeped with bulbs of garlic and sold on the Massachusetts coast to whale watching tourists. And my brother-in-law and sister-in-law in Charlotte passed on a "fresh" jar of pickled vegetables made by a chef-friend of theirs. They are dilly and delicious.
And then there were Indian pickles (achar). Mango is a popular kind, not only in Indian restaurants in the diaspora, but in Indian family kitchens as well. While western pickles are mainly brined in an acetic acid like vinegar, Indian pickles are usually cooked with spices and packed with oil and salt (sometimes with an acetic or citric acid of some sort as well). They're then traditionally canned tightly and set in the direct sun for days.
In addition to the basic mango pickle, I love:
photo courtesy of www.honestcooking.com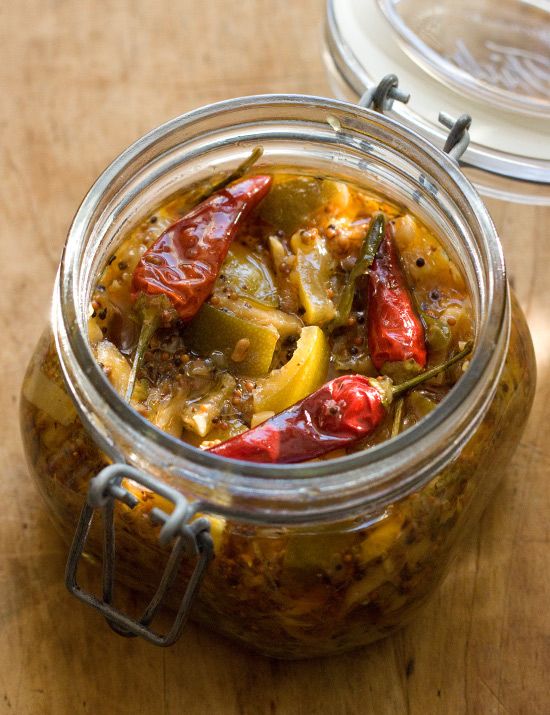 photo courtesy of www.the-dogs-breakfast.com
I also distinctly remember trips home to New Jersey from summers in India when my mother would (close your ears, customs' officials) sneak in some dried prawns (sukat). I fought and threw the teenagiest of tantrums to keep them out of my suitcase--I was convinced, due to the neurosis that comes from growing up in an era before Indian food was the trendy ethnic option it is these days, that it would transfer its pungent, borderline rotten odor onto all of my clothes.
But once we safely evaded the folks at the airport, friends would line up to get batches of what my mom made with it. There were pulaos, there were stir fries, and, yes, there were pickles.
photo courtesy of www.konkancouncil.org
But pickling takes time! It takes preparation and then fermentation, both of which require forethought. So when you want a nice Indian pickle to cut a curry, or you just want to have some with creamy yoghurt and rice (try it!), it's convenient to have some ready-made on hand. I'm lucky enough to have some ready-family-made, but there are some good options (my favorites are Mother's Recipe or Patak's) in the Indian sections of grocers now.
And then leave it to my mother, a true innovator in the kitchen, to introduce me to a quick pickle tonight. It's simple and relies on the pickle
masala
to provide the salty, spicy punch of an
achar
, but doesn't require the fermentation. The raw yellow onion adds nice texture and bite, while the ribboned spinach makes it quite an attractive slaw or relish even. In any case, it was delicious and went perfectly with a rich lamb curry.
Onion and Spinach Achar
some ribboned spinach
chopped yellow onion
finely minced garlic
achar masala, to taste
salt, to taste
Combine all ingredients. It's that simple. Enjoy!