A few years ago, while menu-tasting for our wedding in the DC metro area, I tasted what continues to be my favorite appetizer, hands down: crispy palak (spinach) chaat. I won't mention the name of the Indian restaurant in the Virginia suburbs, despite the wondrousness they caused in my mouth, because they were completely unethical and I want no part in driving business towards their establishment. But once every few months my mind wanders back to that tasting and I find myself involuntarily smacking my lips in memory of the light, crispy, almost airy quality of the starter. It doesn't hurt that the following conversation occurred at the table when the dish was introduced, causing my sister to almost lose her shit on a complete stranger, when it's hard enough to convince her to accompany us to Indian restaurants for exactly this reason:
Manager: And this is our palak chaat.

Me: Does this have any gram flour in it? My sister (sitting across from me) is deathly allergic to it, if so.

Manager: Absolutely no gram flour.

Me: Really? Because it looks like it's been slightly battered in it.

Manager: Nope. No gram flour whatsoever.

Me: (making the rest of the table uncomfortable at this point) Are you absolutely sure? Because my sister will have an awful allergic reaction to this dish if it even has as much as a dusting of besan (gram flour).

Manager: Oh, there is a LOT of besan in it.
In any case, the dish was delicious but we decided we couldn't reliably serve it at the wedding because we needed practical starters that could withstand delays and crowds. One of the reasons this dish was truly spectacular was because its light crunch necessitated the intimacy of making it "to order"--something that would be difficult at our three hundred person affair.
Once again, my favorite
restaurant
in the district doesn't disappoint, as it is also famous for the same dish (albeit made differently by flash frying entire leaves of baby spinach instead of the thin ribbons of the leafy green I tasted at The Restaurant That Shall Not Be Named). I haven't actually tasted it at Rasika, however, since I've only been with my sister and I usually try to avoid choosing dishes that will send her into severe anaphylactic shock (see above). But the interwebs are rife with diners who have tasted the starter at Rasika and are haunted months, if not years, later, desperately trying to copycat the recipe in their own kitchens.
Fast forward a few years from the first time I tasted this dish to this past week when I brought a new member of the family into our home. I bought a two pound bag of kale at the store, thinking--hey, I love kale, I haven't really cooked with it much in the past few months, and I always feel like greens cook down into oblivion, so why not go big with the large bag? HAVE YOU EVER SEEN TWO POUNDS OF TIGHTLY PACKED KALE? I seriously think Desmond would take up less room in our fridge. This bag is endless and it does not cook down. I have already made five dishes with it and it looks like I haven't even made a dent.
Not that I'm complaining--kale is a sought-after superfood and has really been pretty trendy in the U.S. (if not France, as a
NYT piece
sure to enrage fellow freelancers explained this weekend). I had it at Craft a few months ago, seemingly sauted with onions in nothing but a bit of rice wine and butter. It's hearty and healthy--what's not to love?
As I was staring in wonder at this bag this past weekend, I saw some "tips" (essentially on how to get rid of this ridiculous amount of greens, as though they knew) for helpful ways to use kale. One of them suggested replacing it for any recipe that calls for spinach. [note: this is not true when it comes to raw spinach salads, since raw kale really needs acidity to soften it up--rice wine vinegar or soy works nicely.]
Spinach! Palak Chaat! As anyone who's made kale chips knows, that delicate, light crunch is pretty easy to obtain with this green. So I set about making my own "palak" chaat for some friends who were coming over for dinner. Owing to the deep fryer incident of 2009, I chose to avoid this horrendous appliance in favor of baking the crispy chaat--just as I would for kale chips.
Crispy "Palak" Chaat
five cups of kale, ripped off the stem and ribboned
quarter cup gram flour (besan)
three tablespoons rice flour
1 tablespoon garlic powder
sea salt, to taste
olive oil
Preheat the oven to 350 degrees. Massage or spray the kale with olive oil. Spread it out in an even layer on a wire rack over baking sheets, trying to avoid as much overlap as possible. Combine the rest of the ingredients in a sifter and sift over the kale.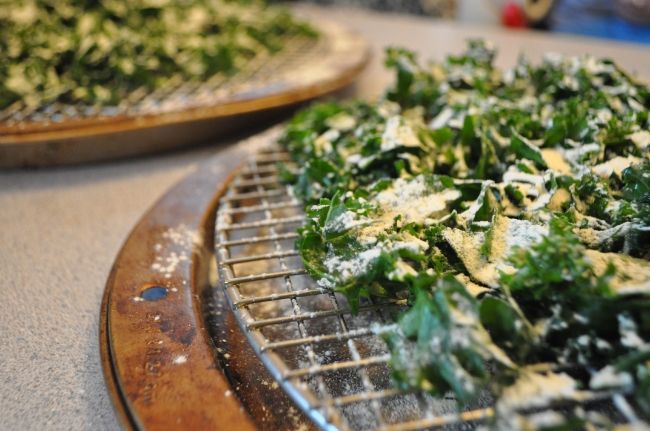 Place the sheets in the oven on the lowest rack possible for about 10-12 minutes, stirring a bit once in the middle to ensure that all of the kale crisps evenly. The kale is ready when it is crispy to touch and the light appearance of the flour has mostly disappeared.
Plate immediately and top with a mixture (to taste) of yoghurt, tamarind paste and pureed roasted garlic. Additional chopped tomatoes, onions and cilantro are optional.