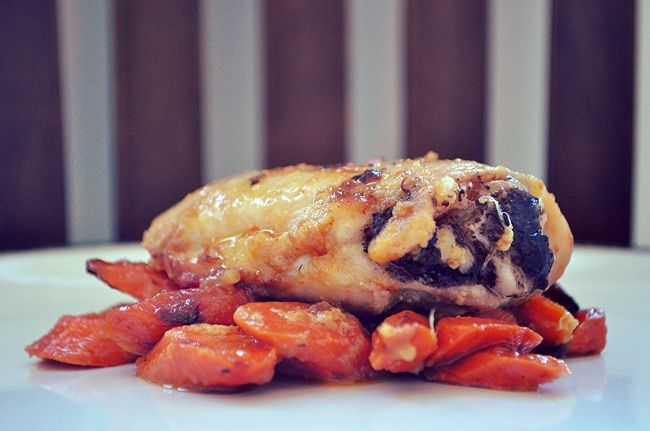 If you are a federal employee household, like we are, the potential government shutdown is probably also on your mind. Thanks to a number of children (and not the good kind, but those cavechildren you see in public, climbing furniture, eating paste, and pulling hair out of baby dolls' heads) that some people in this country saw fit to elect as their distinguished representatives, our debt ceiling and the world economy are being held hostage by House Republicans. I can't go on about it because I get all rage-y when I think about their callousness for 1.2 million federal employees' families who, wonder of all wonders, might need something as silly as a paycheck to help them subsist.
Well, stressful times call for relaxing recipes. I'm thinking easy marination, one-pot-dishes, and unattended oven time that also happens to heat your home as the fall chill approaches in the evening. Bonus points for ones that happen to use ingredients you already have in your fridge, since we're talking about saving money after all, and are easily amenable to your fridge's quirky constitution instead of mine. Enter my Asian interpretation of roasted chicken and root vegetables.
Spicy Miso Chicken Thighs
2 pounds boneless skinless chicken thighs
2 tablespoon garlic, minced
2 tablespoon ginger, minced
3 tablespoons miso paste
1 lemon, zested
2 tablespoons vegetable oil
1 tablespoon olive oil
1 tablespoon sesame chili oil
1 tablespoon rice vinegar
1 tablespoon soy sauce
1 tablespoon sugar
1 tablespoon sambal oelek
1 pound carrots
sea salt
Preheat the oven to 425 degrees. Combine the garlic, ginger, miso, lemon zest, vegetable oil, sesame chili oil, rice vinegar, soy sauce, sugar, and sambal oelek and marinate the chicken thighs in the mixture for at least an hour, but preferably overnight.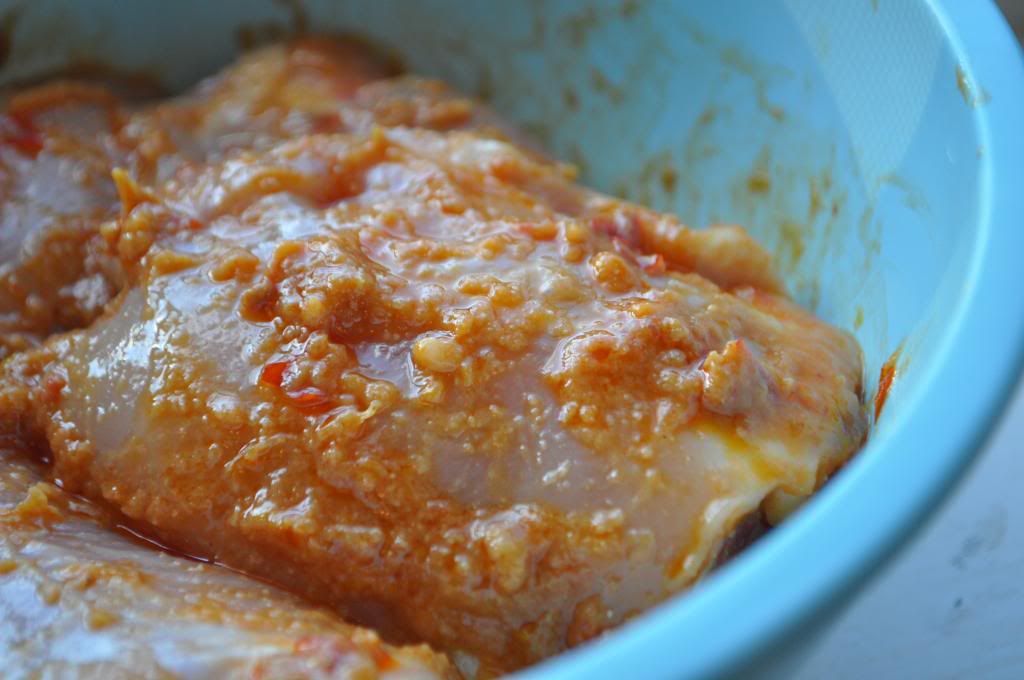 Peel the carrots, slice them on the bias, and toss them with 1 tablespoon of olive oil and some sea salt. Spread them out on the bottom of a baking dish and top with the chicken.
Bake for 30 minutes, flipping chicken once halfway through the cooking time. Broiling for 3-4 minutes is optional to brown the thighs. Let the chicken rest for 5 minutes and then serve it up.
If you look really closely, you can see 1.2 million workers giving the bird to the House GOP.