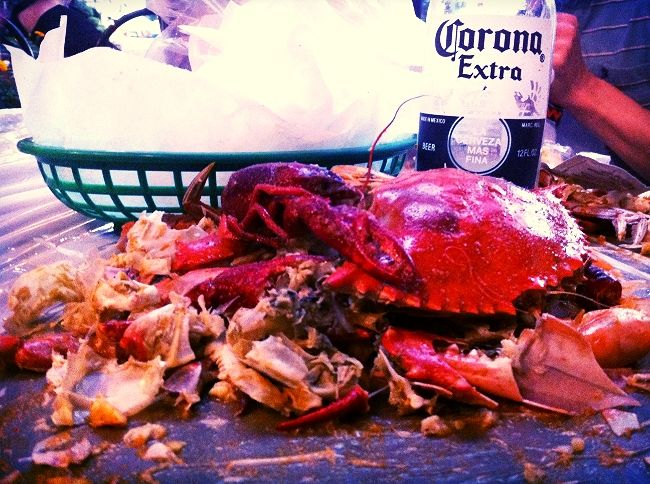 A few months ago I stumbled upon one of the best dining establishments in the district: Hot N Juicy. That's right-- that place nestled in the strip of not-so-great restaurants along Connecticut Avenue in Woodley Park, that place where people who want to gorge on crawfish go, that place with plastic tablecloths and tin buckets on the tables.
Forget for a moment that I *am* that person who will go somewhere specifically for the crawfish (have you been to Ghost Street in Beijing, where you can have hot pots and buckets of crawfish at four in the morning?). More importantly to me, Hot N Juicy has CRABS--blue, dungeness, snow, yum.
Even with crabs on the menu it takes some cajoling to get me to sit down at one of these places, given that the crabs are so much more expensive than the crabs you can get fresh and by the bushel down at the southwest waterfront wharf. And the regional Old Bay seasoning is nice, don't get me wrong, but sometimes you want your crabs simmering in a pot of juicy sauce. My community in India calls our variation khadkhale (the best example of onomatopoeia I've ever heard, named for the spitter spatter the frying garlic makes as it hits the hot oil and spices in a pan). My family will pick apart dozens of khadkhale chimboree (crabs) for hours upon hours, until the table is completely covered in delicate opaque membranes and broken shells. Bombay-folk know how to work over their seafood.
But when we moved to this area, the ease and convenience of Old Bay smothered freshly steamed bushels started to replace the hard work involved in a making a chimboree curry from scratch (no judging, Mom!). So you can imagine my heart's delight when I met up with some friends to try Hot N Juicy for the first time and discovered that they have their own khadkhale! They use a cajun spice, but it's the same, unmistakable blend of garlic, oil, and spices. They have five flavors--Lousiana Style, Juicy Cajun, Garlic Butter, Lemon Pepper, and, my favorite, the Hot N Juicy Special. I've tried them all, and you should too.
The aesthetic that matters here is taste, so if you're looking for white linen tablecloths you should move on. In fact, the crabs/crawfish/shrimp are delightfully served in plastic bags so you get plenty of the sauce and don't forget to order a side of rice or rolls to sop it all up! The best part is that utensils are on special order, so eating the rice, sauce and crabs by hand reminds me even more of our family dinners.