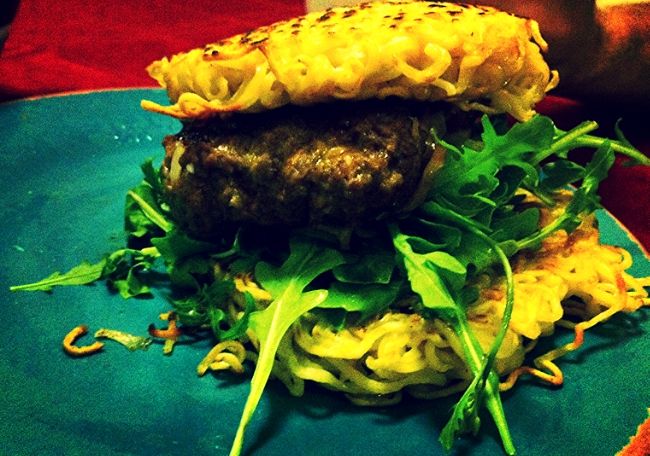 Today I'm sharing a recipe that my sister mastered: the coveted ramen burger, the hipster dish still noticeably absent on the district's food scene, despite having already traveled from its hometown Brooklyn all the way out west to California, and even back again. My sister just moved from the district up to the center of foodie fads, New York City, and since she a) is a broke medical student, b) is a recently self-trained excellent cook, and c) has the eating habits of a six year old you would imagine living in a fraternity house, she immediately decided to make the ramen burger in her own kitchen.
DC gets a bad rap when it comes to food, and while I'll be the first to defend its growing culinary options, it does seem like fads hit us late and stay long enough to die a slow, painful death. Why, for example, are cupcakes still so damn popular? I like them just fine, but perhaps I overdosed because they were ALWAYS around my old office--the end of staff meetings, birthdays, anniversaries... by the end I swear it felt like Mondays and Wednesdays just for the hell of it. And, call me old fashioned, but I'd actually like my mini-cakes to cost less than, well, cakes.
I digress. Point is, the ramen burger isn't even served up at the district's ramen Mecca, Toki Underground yet. And this is doing nothing to ameliorate the severe foodie insecurity Washingtonians feel towards their northern counterparts. If you don't believe me, just google "Where can I get NY-style pizza in DC?" and get back to me after you spend the next three days wading through the results. [Incidentally, as someone who has scoured through all of the hits more than once, and spent a good deal of time traveling around the city testing the advice out, a gift from me to you: Italian Pizza Kitchen (either their Van Ness or Woodley Park location). Get their thin crust, with extra sauce. It's smaller than a New York slice, but otherwise the basics are there. You're welcome.]
The ramen burger was originally created by New York's noodle master, Keizo Shimamoto, at Brooklyn's Smorgasburg. This self-described "food flea market" hits two locations on the weekends, DUMBO and Williamsburg, to serve up some great hipster flare. And the burger is no exception. It is made exactly as it sounds--a burger pattie sandwiched between buns made out of ramen. The ramen crisps up to give a nice crunch to the bun on the outside, but allows noodles to stay soft, warm and crumbly on the inside. You can get creative with the seasoning of the buns, burger and sauce, but my sister tried to stay true to Shimamoto's "special sauce." Here's her take on the authentic RB:
The Ramen Burger
makes 6-8 servings
Buns
2 packets ramen noodles

1 packet of ramen noodle seasoning packet

1 large egg

butter, for searing
Cook two packets worth of ramen noodles in boiling water and then drain all the water.
Add only one packet of the chicken flavoring for two packages of noodles, or the buns will be too salty.
Let cool, then add one large egg to noodles and stir to make sure all noodles are coated evenly. D
ivide the noodles into 6-8 piles. Add one pile to a ramekin or a bowl, and cover with saran wrap. Use another bowl to flatten into a flat disc, then pop out the
ramen
disc, cover it fully in saran wrap, and put it in freezer for 20 minutes. Repeat for all 6-8 buns. A
fter 20 minutes, sear
r

amen
buns on a greased pan until golden brown on each side.
Burgers
2 pounds of ground beef (80/20 fat composition works well to retain moisture in patties, but it's really up to you)

1 small onion, diced

2 tablespoons fresh garlic

2 tablespoons fresh ginger

1 cup grated cheddar cheese

1 packet of ramen noodle seasoning packet

2 chilies, diced
While the buns are in the freezer, prepare your patties. Combine the ground beef, onion, ginger, garlic, cheese, ramen noodle seasoning packet and chilies. Shape into patties and sear on a stovetop or grill, reserving some drippings if possible.
1 teaspoon sri racha

1 teaspoon spicy brown mustard

1 teaspoon oyster sauce

1 teaspoon teriyaki sauce

1 teaspoon soy sauce

some leftover drippings from searing the burgers
Combine sauce ingredients with some of the drippings from searing the
burgers
and mix well. Adjust sauce ingredients to taste. Layer fresh arugula
on the bottom
ramen
bun, place the
burger
on top, lather with the sauce, and top with the second bun.